Vehicle Sanitising Melbourne
Vehicle Sanitising Services Melbourne
Pest Police vehicle sanitising services Melbourne disinfect and sanitise your personal vehicles/car in Melbourne, keeping you and your loved ones safe and assured. Due to the increased risks associated with bacterial and viral contaminants in vehicles including Covid-19, our sanitisation and disinfection services for your vehicles will help avoid the spread of germs and improve health and safety within the home and community.
The second highest transmission of bacterial spread indoors is indirect transmission from surfaces with either direct transition or shedding of cells from humans. Bacteria can live on surfaces for hours or even days and without adequate disinfecting of all surfaces including the hard to reach areas which require specialised equipment, germs can quickly spread.
Does your vehicle cleaning routines sanitise and disinfect removing bacterial pathogens or just smear and further spread contamination like most cleaning techniques? Are manual contact cleaning procedures reaching all surface harbouring bacteria?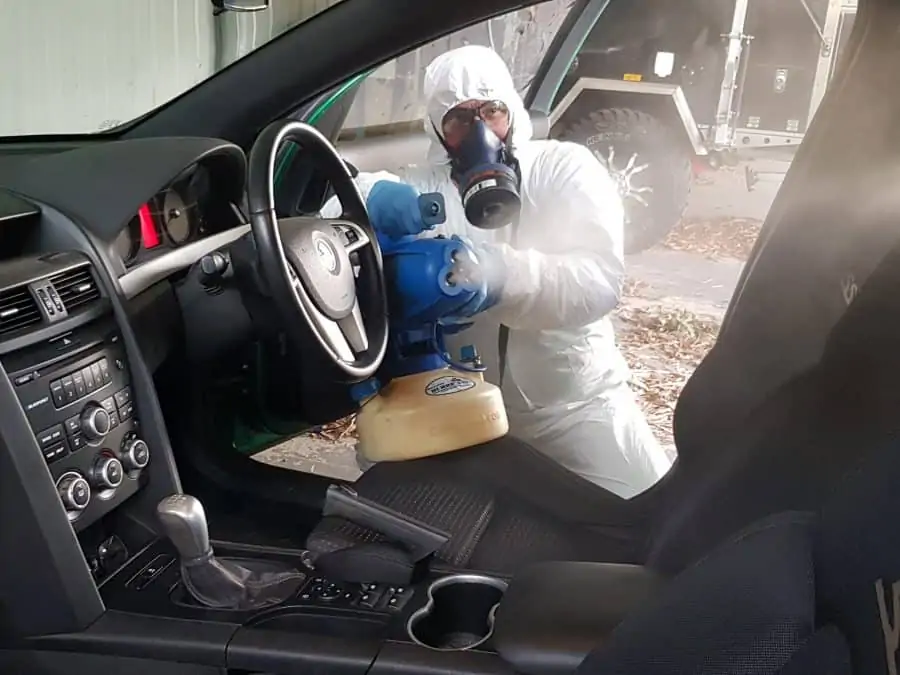 Vehicle Disinfection Services Melbourne
Through a thorough procedure of misting and/or fogging of your vehicles, our environmentally friendly product kills 99.9% of pathogens (germs) while also creating a protective film on the targeted surface. Our Surface Disinfectant and Sanitiser Spray has been tested against a wide range of pathogens and although safe for humans, animals and plants effective rids bacteria.
Our Surface Disinfectant and Sanitiser Spray is known as VIRI – DIS. It is convenient to use, sustainable, non-leaching, long lasting and above all, friendly to humans, pets and plants. Through our vehicle disinfection services Melbourne, we can assure you that our Surface Disinfectant and Sanitiser Spray contains no chlorines, bleaches, carcinogenic or endocrine disruptive compounds and in final life, breaks down to form harmless organic compounds.
So let Pest Police do what we do best and that's sanitise/disinfect your vehicle in Melbourne today. Call 1800 737 876
Up to 24hrs Continuous Protection