Hotel Sanitising Melbourne
Hotel Sanitising Services Melbourne
Hotel sanitising services Melbourne have never been more important in Melbourne as in our current climate. Due to the increased risks associated with bacterial and viral contaminants including Covid-19, our sanitisation and disinfection services for your hotel premises, ensure the health and safety of future customers and staff alike, and have never been more imperative for hotel businesses to adopt into their day to day routine.
In a world with heightened fear of bacterial and viral contamination you can provide confidence and instill a sense of safety to the community, including your client base and staff, by ensuring professional sanitisation services are carried out regularly, to meet your clientele's peace of mind.
Bacteria can thrive on surfaces for hours or even days and without adequate disinfecting of all surfaces including the hard to reach areas which require specialised equipment, germs can quickly spread.
Adapting to our new way of life will improve business longevity and success moving forward to alleviate fear of infections.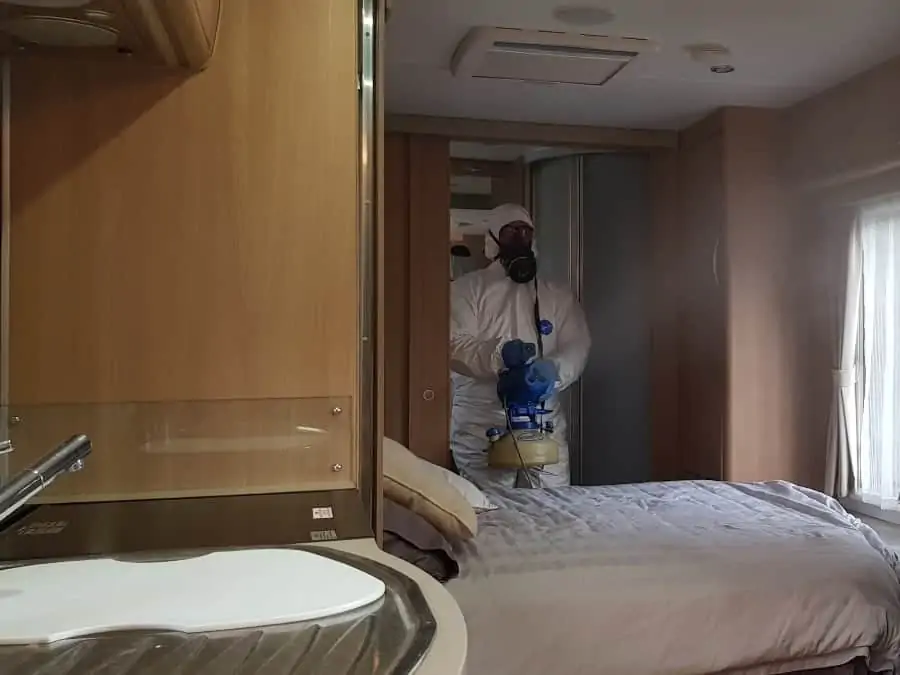 Hotel Disinfection Services Melbourne
Does your current cleaning routines rid bacterial pathogens (Sanitise and disinfect) or just smear and further spread contamination like most commercial cleaners? Is the cost of inadequate cleaning and loss of customer confidence costing you your business prospects and financial prosperity.
Pest Police hotel disinfection services Melbourne are your best point of call. Using the most trusted and safe chemicals available on the market, give us a Call to discuss your concerns and best options for your hotel premises. Keep your business safe from viral and bacterial pathogens, within your physical premises, and in the psychological assurance and confidence you can offer your clientele.
Our Surface Disinfectant and Sanitiser Spray is known as VIRI – DIS. It is sustainable, non-leaching, long lasting and above all, friendly to humans, pets and plants. Our Surface disinfectant and Sanitiser Spray contains no chlorines, bleaches, carcinogenic or endocrine disruptive compounds and in final life, breaks down to form harmless organic compounds.
Through a thorough procedure of misting and/or fogging of your hotel rooms and common areas, our environmentally friendly product kills 99.9% of pathogens (germs) while also creating a protective film on the targeted surface. Our Surface Disinfectant and Sanitiser Spray has been tested against a wide range of pathogens and further information can be supplied upon request.
Let Pest Police do what we do best and sanitise/disinfect your hotel premises. This will assist you to ensure optimal health and wellbeing for staff, clientele and restore trust to your business.
Up to 24hrs Continuous Protection